Listen Now
About the Episode
Key Topics
Kathryn's squiggly career path, from dropping out of music school and waitressing in outback Australia to managing multi-million dollar groundwater projects
How the availability of safe, supportive and nurturing spaces, relationships and communities can completely change the course of your life
How Kathryn combines her love of the environment, adventure, science and emotional connection to make a difference in the world of hydrogeology
Detours and Tangents
The time Kathryn got lost in the wilderness with her dad and a search party came looking for them
The challenges of moving from being a specialist out in the field to being a manager behind the desk
Diversity, inclusion and mentoring in the energy sector
What Kathryn loves about singing in a women's barbershop choir
Recorded 2 October 2021
---
Episode Digest
Kathryn's squiggly career
Kathyrn loves finding out about the history of the earth by looking at rocks. As a hydrogeologist she specialises in looking at the water that's in those rocks (called aquifers).
Kathryn "fell into hydrogeology." "Some of my original plans when I was young included becoming an actress, an astronaut and a park ranger. But I settled on becoming a music teacher and that's really what I was aiming towards throughout high school."
Kathryn played classical piano quite seriously as a teenager and also sang in choir groups. After high school she was accepted into the School of Music in Canberra to study the music component of an education degree based at Australian National University.
Kathryn saw herself as an independent young woman but in Canberra she was surprised to find how difficult it was for her to adjust to living out of home. She felt a bit lost.
The world of the School of Music was "just so alien" to Kathryn. She had previously flourished with an amazing piano teacher who was supportive and loving, and imagined that the School of Music environment would be similarly nurturing and supportive. "It was far from that."
She left the School of Music after 6 months and stayed in Canberra for 12 months overall, doing waitressing but with no particular direction. There was trouble with a boyfriend as well. It was a low point in her life.
Through a family contact, Kathryn was able to get a waitressing job in Yulara, a remote town of just over 1000 people in the centre of Australia. "It was honestly exactly what I needed." She learned how to have a little more fun, make friendships and not take things too seriously. With a sense of community and the peace to enjoy the epic landscape of outback Australia, Kathryn had time and space to heal from past experiences and rediscover her sense of joy and courage.
Her time in Yulara came to an abrupt end after being involved in a car crash outside Alice Springs. She wasn't able to work as much due to her injuries and that meant it was time to move on.
Now in her mid-twenties, having gained confidence from socialising more and also after "realising she had a brain she could be using more", Kathryn decided to pursue an environmental degree. She had enjoyed bushwalking in Tasmania in high school, so she applied to the University of Tasmania to and was accepted.
As she was signing up for her fourth subject, the lecturer looking at Kathryn's enrolment said "What bloody degree is this?!" It wasn't a Bachelor of Science, it was a fancy new one with a long-winded name. He crossed it out and he said "just do a Bachelor of Science. It'll be recognized around the world. Do geology as your fourth subject, I bet you'll love it."
She did love it, thanks to a lecturer who connected her to the excitement of exploring the history of the world through rocks. "Everything I learned just increased my enthusiasm for the subject even more. It's a world of beauty that you just don't realise."
Following university, Kathryn worked at Origin Energy as a hydrogeologist for five years in Queensland. She was working primarily out in the field, testing water quality and groundwater levels on land-owners' bores. She loved driving around the beautiful open landscapes of western Queensland. Kathryn also likes the sense of community amongst geologists and that they are so down to earth (har har)
After making making a lifestyle move to the Gold Coast with her partner, Kathryn took a break from hydrogeology and worked at Bond University on analysing research performance and implementation of a major IT project. Here Kathryn enjoyed the opportunity to manage her own projects and have a small team that looked to her to direct them.
Eventually she began to miss hydrogeology and returned to Origin Energy, where her team was involved in setting up one of the largest and most complex aquifer injection schemes in Australia.
Kathryn recently became manager of the groundwater team, which involves much less of the fieldwork and analysis she loves, but brings new challenges and learning opportunities in the form of managing people and processes. Kathryn's priorities have also changed now that she has a family and young child.
While Bond felt like a managerial role at the time, Kathryn has since realised it pales in comparison to her much broader role now, which includes performance reviews and formal goal-setting.
Kathryn is responsible for managing high-pressure, tight-deadline projects that require a lot of planning and coordination across the business. The oil and gas sector is also highly regulated and requires Kathryn to manage compliance issues which have become increasingly complex with the changes and uncertainty brought about by the pandemic.
Kathryn likes to be a high-achiever and initially ran herself ragged trying to be the best manager straight out of the box and not fail in her new role. Eventually her partner took her aside and told Kathryn she was putting too much of herself into work and it was affecting those around her. This made Kathryn realise she needed to pull back from "being some ideal that I couldn't possibly be" and instead learn to fill her own cup.
She took up singing in a community choir and does monthly walks and regular mountain hikes with a group of girls.
Having a child was a life-changing experience for Kathryn. She feels like a very natural mum, though there are challenges involved in staying at home because working is an important part of her identity.
Having her own family unit provides Kathryn with stability and a sense of love and support, which has been amplified since her mother moved to be closer to the family. Together with her partner, she loves spending time with mum and her son and finds them both energising and inspiring to be around. "I suddenly felt like things slipped into place."
The Red Thread
Kathryn grew up with a love of the environment, largely thanks to her Dad who made sure family holidays involved a lot of camping rather than staying in cities or fancy hotels. Kathryn remembers hunting for Easter eggs around a campsite one year. "It was raining and muddy but I didn't care, it was so much fun."
One time when Kathryn was out hiking with her dad as a child, they got lost and a police search party came looking for them after dark. Kathryn doesn't remember being anxious or scared. "I just remember it being a big adventure."
Whenever Kathryn travels, she always seeks out the national parks or tries to go camping. "That's what interests me. It's never the cities."
Having a strong sense of community around her is a constant in everything Kathryn loves and this aspect is a large part of what draws her towards particular spaces and activities.
Kathryn is drawn into spaces where she feels safe, supported and encouraged. Much of what drove her decisions, especially earlier in life, has been about external factors – chance encounters and conversations with people who have been influential in guiding her "emotion-driven enthusiasm" to bounce around and take opportunities as they come up. Kathryn describes her thought process when she was younger as "this person seems like they're going to be able to support me in that and if they think this is cool, then let's have a look at it."
Decisive Moments
Waitressing in outback Australia during a low point in her life was "an absolutely pivotal moment" that changed Kathryn as a person. She learned to draw more deeply on her personality when talking to people and this also helped her realise she needed to use her brain a bit more than she had been.
When Kathryn went back to university in her mid-twenties, she picked up geology as her throwaway fourth subject, but found she was captivated from her very first lecture and just loved it. "I'm just so blessed that Clive Burrett was my first ever lecturer in my first lecture in geology because his passion, his dry sense of humor and the way he talked about what we can learn from the history of the earth… it just hooked me."
Synthesising for Strength
At Bond University, Kathryn was able to use her research and data analysis skills from hydrogeology to grok the unfamiliar world of academic research management.
As a manager, Kathryn draws on her life experiences to provide a supportive and nurturing environment for her team. She feels responsible for her team's wellbeing and has worked to create emotional connection through strong communication during the anxiety and uncertainty of the pandemic which has impacted the business.
Working on a major IT project inspired Kathryn to learn more about IT project management methodologies and start to bring these into her organisation.
Kathryn brings her love of the environment into her work as a scientist in the energy sector. "I've had a few challenging conversations with people about the sector that I work in because there's a lot of concern about groundwater, coal-seam gas and the energy sector in general." She acknowledges the inevitable impacts from the sector, as there are from many other kinds of human activity, and reconciles this by carefully managing those impacts and knowing her work is adding to the scientific knowledge about groundwater and about the great artesian basin. She is proud of benefits of "some of the programs that we've instigated out there, for groundwater users and for the aquifers themselves. There's a balance there that I feel has been struck."
Kathryn draws great strength from her family, her mum and her son who she finds inspiring to be around.
How Kathryn likes to learn
When Kathryn was 16, she had a piano teacher who encapsulated everything about Kathryn's ideal learning environment. Her teacher was caring, kind and tapped into an emotional connection with both Kathryn and the pieces she was learning, which brought the music to life and provided depth to Kathryn's playing. She provided a sense of supportive security, while challenging Kathryn to step outside what she thought she was capable of at times, building confidence through public performances. "I should look her up and just let her know how influential she was."
Kathryn likes to learn through talking to others who do similar things, through trial and error and doing courses that result in more tools to put in her belt.
She is actively seeking a female mentor because "my mentors to date have been middle-age white males. They've been fantastic and I wouldn't have it any other way, but I'm finding now that I want a female to discuss different perspectives."
Kathryn likes to learn by getting involved in a community. She is part of a women's barbershop choir organisation where there are coaches and courses on ways to become involved in the organisation, eg through marketing, costume design or accountancy.
Reflections on Practice
Kathryn is interested in diversity in the hydrogeology and the water sector more broadly. "Sometimes I feel that I am not able to get across my points as well as I would like to, or that they're not heard in the same way that I've intended them to come across. Whereas if you have that one other female in the room, it provides a bit of a sounding board and a bit more support."
She has become interested in getting involved in mentorship programs that bring talent into the industry, such as STEM for girls in high school. "When I was in high school, I would have loved to talk to a woman who was really achieving and enthusiastic about what she did and found some pathways in life where she found a lot of fulfilment. And how did she get there?"
---
Stuff We Mentioned
Organisations
Places
---
Audio Highlights
Episode Appetiser - Why waitressing in outback Australia completely changed the course of Kathryn's life  (51 sec)
Kathryn explains hydrogeology to a 10 year old (51 sec)
The life-changing learning experience Kathryn would gift someone (26 sec)
How a passionate lecturer inspired Kathryn's love of geology (59 sec)
How Kathryn abandoned plans to become a music teacher after attending the School of Music (49 sec)
---
About Kathryn Harris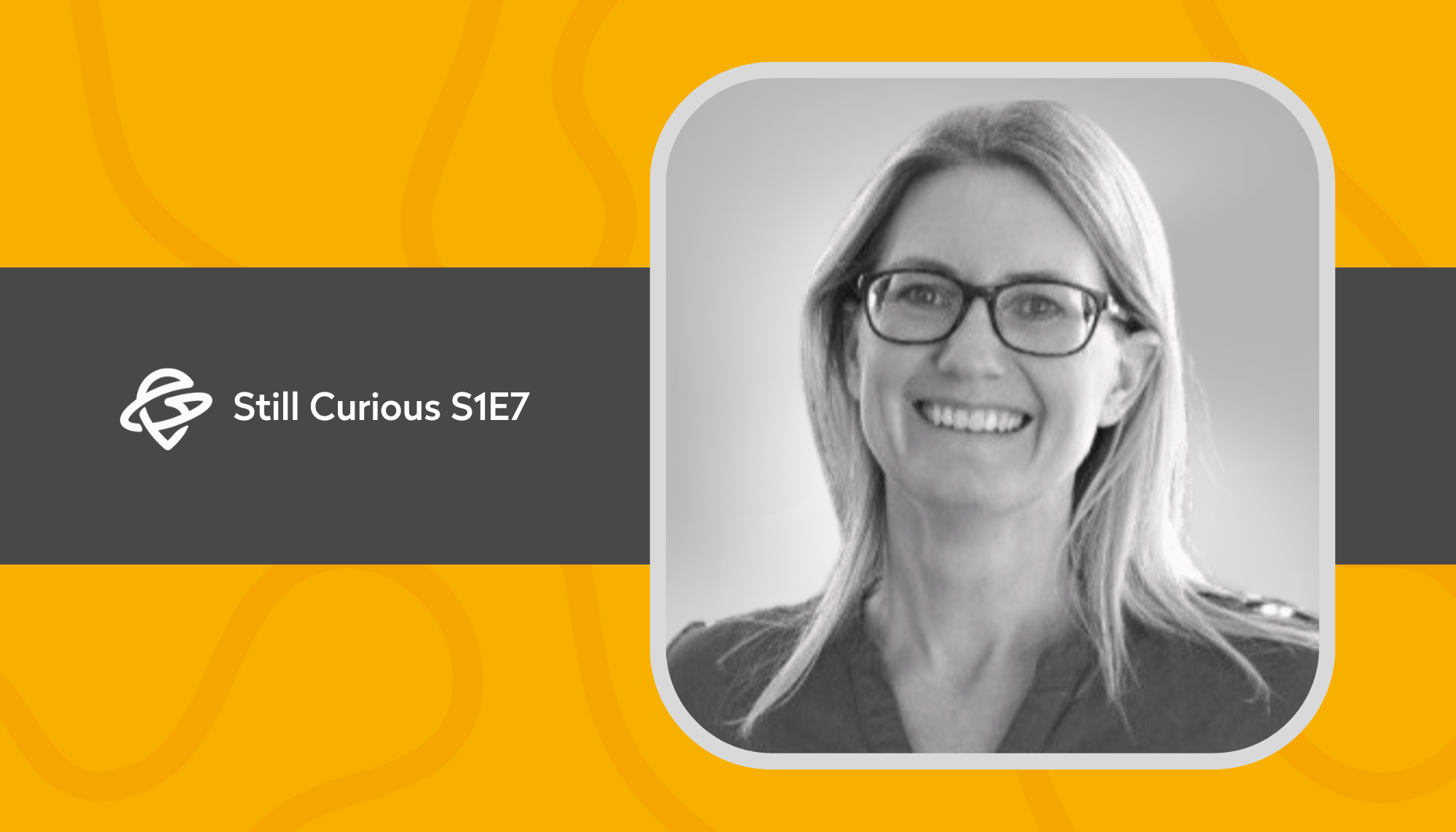 Kathryn Harris is a hydrogeologist at Origin Energy in Queensland, Australia. Kathryn has a wealth of experience in the private energy sector around Water Quality, Earth Science, Geophysics, and Water Resource Management, and she has recently been involved in setting up one of the largest and most complex aquifer injection schemes in the country.
Connect with Kathryn
---
Interactive Transcript
Note: This is a machine-generated transcript and may contain errors.
Leave a Review
Help others like you discover what you liked about Still Curious – leave a rating or review today.