Listen Now
About the Episode
Key Topics
Bo's squiggly career, from studying communications for fun, to switching jobs with a friend, to helping grow a global software company
Bo's practical wisdom on the difference between being 'sold to' and having a salesperson who is an expert on helping you address your needs
What it means to establish a cycle of curiosity with clients and why quality of communication is so important
Detours and Tangents
What clients can learn from salespeople
Why the fear of IT projects going horribly wrong can become a self-fulfilling prophecy
Recorded 30 October 2021
---
Episode Digest
Bo's squiggly career
There was no Plan A. Bo went to university because it seemed like a good idea and picked communications because it sounded interesting and he could get in. "When you read Steve jobs memoirs about how he fell in love with calligraphy and fonts and how that impacted his later product thinking, I totally resonate with that. I picked communications because it just sounded fun - how to communicate!"
While at university, Bo had a job looking after an IT laboratory. His university friend had a job at a tiny software company, and they were both envious of each other's jobs, so they decided to switch. They both quit the same day and recommended that the people they left hire the other guy. "So we just switched jobs and that's how I got into software."
The new job was old-fashioned hardcore selling, the kind that burns you out very quickly. "One of the things I learned there was what not to do."
Bo later went to work for IBM and then Microsoft, where he learned a lot. "The Danish Microsoft organization at this point in history was really, really good and had some super talented people where I learned a lot about partner organizations." What later became Microsoft's ERP solution was originally Danish software that they acquired. Bo worked there with the guy that built their partner channel. He was able to pick up a lot of good stuff.
During these jobs, Bo did a lot of sales training courses. Some of them were good and some of them were terrible – either way Bo learned what to do or what not to do.
Around the turn of the millennium, the dotcom bubble burst and a lot of IT companies went bankrupt. Work was hard to come by. Bo and many of his colleagues in the software industry were either unemployed or had jobs that weren't meaningful but made a living to support their families.
In this environment, three of Bo's contacts in Aalborg had joined together to create Atira, a company that was doing maintenance of software solutions that were already in the market but where the suppliers had gone away because of the dotcom bust. After a year they asked Bo to come in as a co-owner, which he did. "Strategy was 'will work for food', really."
The local university in Aalborg contacted Atira to request what they called a 'publication management system'. Nobody in Atira had worked in higher education before, so they knew nothing about higher education at all. "I had a vague conceptual understanding of what a research publication was and that was it. The concept of a citation was something I learned from clients."
Atira worked on creating the publication management system for Aalborg University, which they called Pure. The other three Atira owners were all computer scientists by education. Bo had studied communication at Aalborg university, so it was natural for him to take the client-facing role, do sales, find new clients, tell them about the software (Pure) and listen to their further needs.
"We learned everything from clients in those days, listening to them and understanding their needs to the full extent and generalising software that could support those needs." By around 2004, Pure was really becoming a recognisable product in its own right. "We had no knowledge of the size of the mountain we were climbing and that made it less daunting."
The Atira team learned together with clients and 10 years later Pure had become a mature, feature-rich product with steady release cycles and a 50-person team behind it.
Atira was acquired by the academic publishing giant Elsevier in 2012. Bo's role changed to focus on scaling up sales globally and training Elsevier's global sales teams in how to talk to university clients about Pure. This was a new challenge. "We didn't understand corporate. You come from an organisation where you just walk over to the other guy and talk with him if you need. And that's not how things work in a large global corporation."
In 2016, with Pure now established as the market leading software solution in its category, Bo left Elsevier to take a year off, before taking up a role as Director of Strategy at Digital Science, a competing software company in the academic research space.
At time of recording, Bo had recently finished up at Digital Science and was working as an independent consultant.
The Red Thread
Bo has learned through experience that success in sales is not about getting a signature. That's just a step towards success. The success is two years later when the project is finished, everything is up and running, everyone is smiling and saying 'that works - we had a good project.'
What people call sales is really about having good subject matter knowledge about your client's needs.
What makes the biggest difference is the quality of your communication. It's about how you come into a room. Don't start demoing, start listening.
Decisive moments
When Bo and his friend agreed to switch jobs during university, this was the start of Bo's journey in the software industry.
After the dotcom bust in 2000, Bo joined a small company of struggling software developers as co-owner and became their client-facing go-to-market expert. What started as a request from a single university client for a bespoke research management system became a generalised software solution for hundreds of universities around the world.
Synthesising for strength
Bo unconsciously applies things he learned from studying communications into his sales practice. "You have your whole sales management and execution framework, your CRM, your go-to-market plan, your budgets. But that's all mechanical. That's just being a good administrator. Where it comes alive is the quality of the communication."
How Bo likes to learn
"What I got from formal education was a really basic unsophisticated, but solid understanding of what communication is, and how it is something you can study scientifically. That allowed me to continue my own studies."
Bo likes to establish a cycle of curiosity with clients. "They were curious how this could be solved and if software could help them, and we were curious about their needs."
Reflections on practice
"The image people get up in front of them when you say salesperson is a scheming, middle-aged white man in a suit that's not tailor-made, with an automated smile with the agenda to get to your money as fast as possible. That's where people go and that's okay. I get it. But that's really not who we are in the industry. We are domain experts."
"When sales teams are involved in the product development cycle, they become extremely knowledgeable. When a client wants to know why the product doesn't have a specific feature or why the feature was built this way, then the salesperson is knowledgeable and can answer because he was there. He knows why those design choices were made. But if you're alien to that, you are left with no answer to the client and you don't really fill an information need for the client in that situation."
"The first step is to understand the need. Don't leave the room. If you don't know what they're talking about, don't fall for the temptation to just say 'mhmm'. Just keep asking and they will appreciate it and you will learn from it. And that means you're walking away with good notes."
"When salespeople are knowledgeable, that also inspires trust. There are people out in organisations trying to improve how they run their business. They're speaking with potential suppliers and when those suppliers know what they're talking about, when they can understand proprietary language quickly, because they can translate that to something they have seen before, when they can reach back in the big box of features and pull out the right ones to demo in the situation and say 'okay, if that's your need, then this is how we try to address that, you want to see it, it's going to take 5 minutes?' When the client says, 'why don't you just X, Y and Z?' you have an informed answer about how we came up with this feature and the thinking behind it."
"Even when we didn't know much and we would go out on the very early meetings, that doesn't harm the trust necessarily because what the clients see is a couple of people really keen to understand what the situation is. And that in itself in my experience creates trust. We are trying very hard to understand everything they're saying, to write it down and to make sense of it. When that happens, the client will recognise that 'hey, they got it right.' And it goes both ways when clients are hard at work in a room trying to explain their business need. That is a very honest thing and a very direct thing to do. There's no agenda. It's just them trying to get a solution to their problem. That builds trust."
"If you come into the room with the mindset 'oh great, this is a mid-tier organisation, their budget must be at least 200K and I really need that to close my Q3 quota', if that's your mindset, you're screwed even before you set foot in the room, because that's not what you should be focused on. You don't start asking them about what budget they have and the timeline and stuff, you start with the business need. And if that's your whole take, because that's your route to success, ultimately not just for yourself, but also for the client. If that's your mindset and your route to success, that is just honest and you really can't go wrong."
"If you don't listen, you don't know what to show. Sometimes you'll come into a room and people will say 'right, what do you have to show us today?' And that's a bad starting point because you might be demoing things that are completely irrelevant and superfluous. You need to have the conversation where you listen to their needs first. We always try to precondition the meetings so that we have an agreement - what are we going to do in this meeting? We are going to spend the first hour talking. We want to understand where you're coming from and what you're up to. And once we have a good understanding of that, we can move to other things and we can certainly demo some features that could support the project. And people will usually agree to that because it kind of makes sense and it wasn't a hard sell or anything."
"The art of establishing a business with standard software is largely about being able to generalise, maintaining a single code base that you make work for every client. So when one client has a need that you can't satisfy, you try to figure out how to satisfy that need with features that others can also use."
"There's this interesting shift where you go from listening to them explain what they want, to designing your generalised feature that you now know is flexible enough that it can cover all the different needs you heard about. And then you're not reacting to leads anymore. You're being proactive and suddenly now you're suddenly saying to other clients, we have this feature, would you like to see it? And you're knowledgeable and you know what you're talking about and you make sense in front of clients and you can also handle objections really easily because you were involved in the product development cycle."
"In all large organizations, IT products can go horribly wrong and whatever team is there planning a project know that, and the last thing they want is that kind of unsuccess happening on their watch. So when we come into the room and we start talking about inviting more stakeholders to the party, then they would usually say no, we don't want the added risk. So you need to talk about project risk. Get people on board with the idea that hey, we're building a system here that can do more than what you just anticipated. And if you let it do that, if you embrace that idea even to some extent, at least call the other stakeholders, right? If you embrace that, your project actually becomes stronger, much more viable. Yes, it does introduce more project risk in the next 18 months, that's true. But we have ideas how to manage that risk and mitigate it and if you invite them in, it'll become much stronger and it'll stay in the organisation much longer."
"Get all the mechanical stuff working in your sales organisation and then focus on the quality of the communication. When you meet people, that's where the real gain is."
"Teaching new sales teams was super difficult because we made the mistake of thinking, okay, if we want the new sales colleagues to go out and talk about the product, we'd better train them on the product. So we went into a lot of product training and that didn't really move things much. And then we came to the realisation that actually we need to educate them on the business need."
On what clients can learn from salespeople: "be aware that you are the authority on your own business needs. Nobody knows them better. And for you to be successful with your potential project, you have to make the suppliers understand those business needs in detail. So focus on that, help your supplier understand your needs in great detail. Don't assume that they know anything. They probably don't. So be detailed and thorough and take time and explain and outline the business needs. Point out the problems quite carefully. You're the expert on your own business needs, but the supplier is the expert on software development. So don't try and tell them what the system must do. Just stay on the need."
---
Stuff We Mentioned
Organisations
Film
---
Audio Highlights
Episode appetiser - We knew nothing when we started (17 sec)
Bo explains what a research management system is to a 10 year old (47 sec)
Why salespeople should be subject matter experts (57 sec)
The most important thing in sales (54 sec)
How salespeople can build trust with their clients (44 sec)
---
About Bo Alroe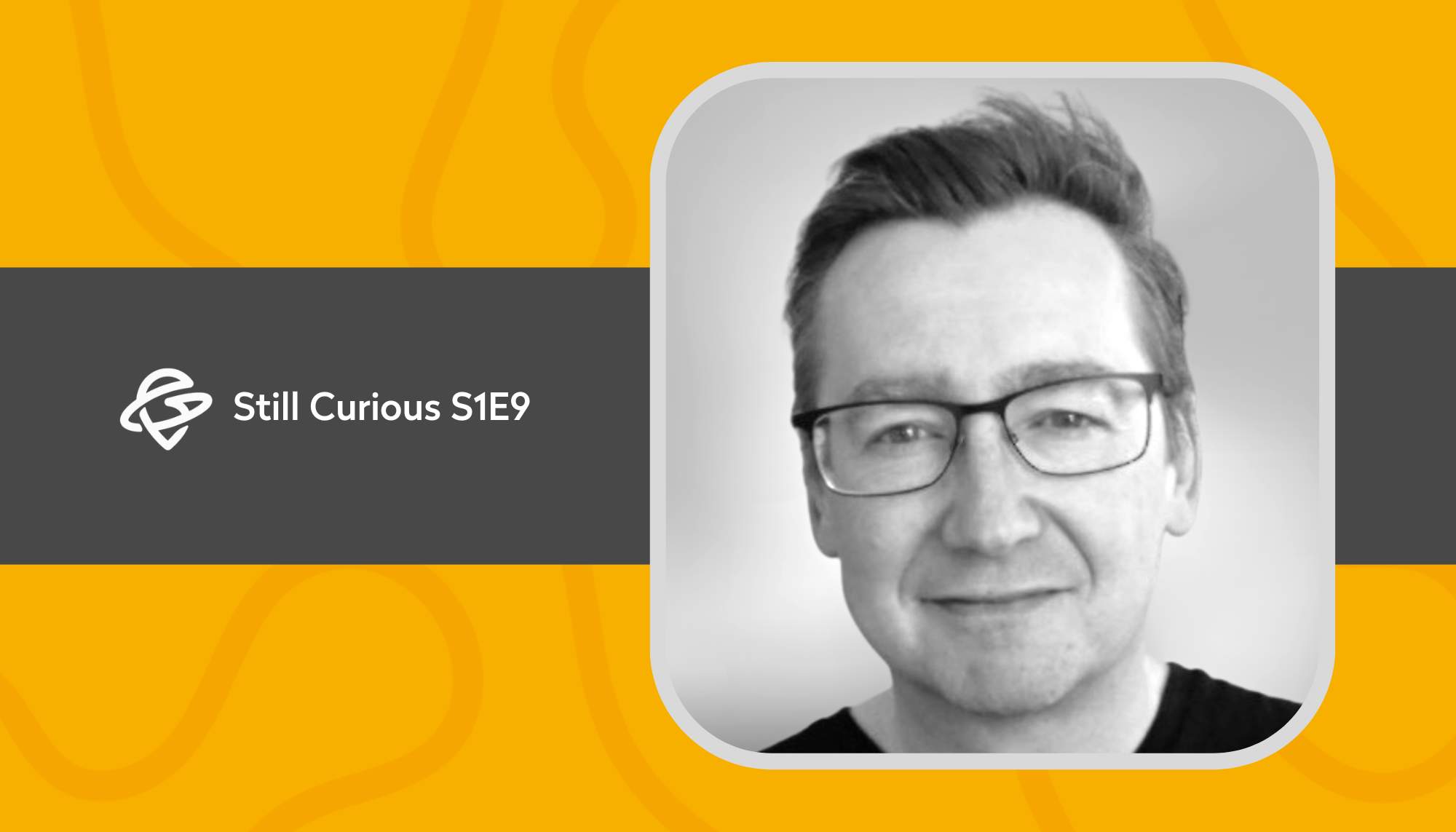 Bo Alroe is an expert in sales management, strategy and execution in the enterprise software industry, based in Denmark. Before working as Director of Strategy at Digital Science, Bo was a co-owner of Atira, a Danish software company most well-known for creating a system called Pure that helps universities manage their publications and information about their research.
Connect with Bo
---
Interactive Transcript
Note: This is a machine-generated transcript and may contain errors.
Leave a Review
Help others like you discover what you liked about Still Curious – leave a rating or review today.