You're reading Scholé Supplement, the newsletter that celebrates curiosity, learning and life as a grokkist. We respect your inbox – edit your profile or unsubscribe here.
Heads up – I'm shifting the newsletter to an every-three-weeks schedule for the foreseeable future. That will allow me to keep it densely-packed with grokky goodness while being able to focus on developing new content and building the Grokkist Network.
👋
In this edition (these links might work better in the
web version
):
🗓 I'm hosting a
town hall meeting
on how Grokkist is going
🎮
Our game about navigating bureaucracy
is 75% done – want to try it?
🌱
Calling all aspiring eco-philosophers
- our next cohort is starting soon
🎙 Multi-dimensional artist and author
The Ungoogleable Michaelangelo
discusses the mysteries of creativity and the disciplined use of psychoactive substances to expand one's understanding of the world.
🍬 In
Snackables
you can explore how rhythm shapes our lives, bookmark a list of the best free edu-things, discover the artistic potential of windscreen photography, consider the copyright implications of AI, and watch a short film about humankind's relationship to the natural world.
Did you know?
The Ancient Greek word
scholé
, from which we get the word
school
,
originally meant
leisure for learning
.
🗓 Grokkist Supporters Update: 1H-2023
If you're a supporter of what we do that means you're invested in Grokkist's success, so you deserve to be treated like an investor!

I'm giving an investor's update on how Grokkist is progressing as a social enterprise, including:
The Big Picture – vision and strategy
Recent highlights and achievements
Current focus and priorities
Updates on operations and financials
What's in the pipeline
Add event to calendar
If you have questions, feel free to ask them in the session or send them through beforehand if you'd like a detailed answer. The session will be recorded.
---
🎮 Our game about navigating bureaucracy is 75% done – want to try it?
Bureaucracy.
I've drowned in it. Navigated it. Perpetrated it. Studied it. Occasionally wielded it.
I got fired from my first bureaucratic job at the tax office after six weeks for not taking it seriously enough.
A bureaucracy is a utopia of rules where stupidity is allowed to roam free. The worst crimes in history were only made possible because of it, yet in a bureaucracy no-one is responsible.
A bureaucracy is rule by nobody.
I tried to do a PhD about all this, but academic bureaucracy meant I never got started.
So instead I made a game about it. It's called Deferred Action and it's all about directing your agency.
The Republic of Administravia's parliament has voted to commission a large public works project, and you've been appointed to manage it!
Everyone is in favour and you'll have all the resources of the mighty Administravian bureaucracy to assist you. So why can't you seem to get anything to happen?
Will you succeed in raising a monument to Administravia's national spirit? And will you recognise the result, or yourself, if you do?
I've been working on it over the past few months with game developer and freelance games writer/narrative designer John Ayliff, and with much-valued assistance from a merry band of early play-testers.
Here's what one play-tester had to say about it:

High praise indeed.
There's still lots to do – artwork to create, bugs to squash, things to polish – but it's about 75% complete.
I'd now like to expand the circle of play-testers to get a fresh round of feedback as we head into the final stretch.
The game takes around 1–2 hours to play. I'll send you a link to try it out in your own time, and we'll have a 30-minute debrief to discuss your experience.
Sound fun? Click below to book in.
Deferred Action will be released later this year and will be free to play.
---
🌱 STARTING SOON: Intro to Philosophy for Ecological Activism
Our second cohort of Intro to Philosophy for Ecological Activism, led by Nathanology, is starting soon. The first live session is on 10 May | 7pm - 8.30pm ET. There's still time to register!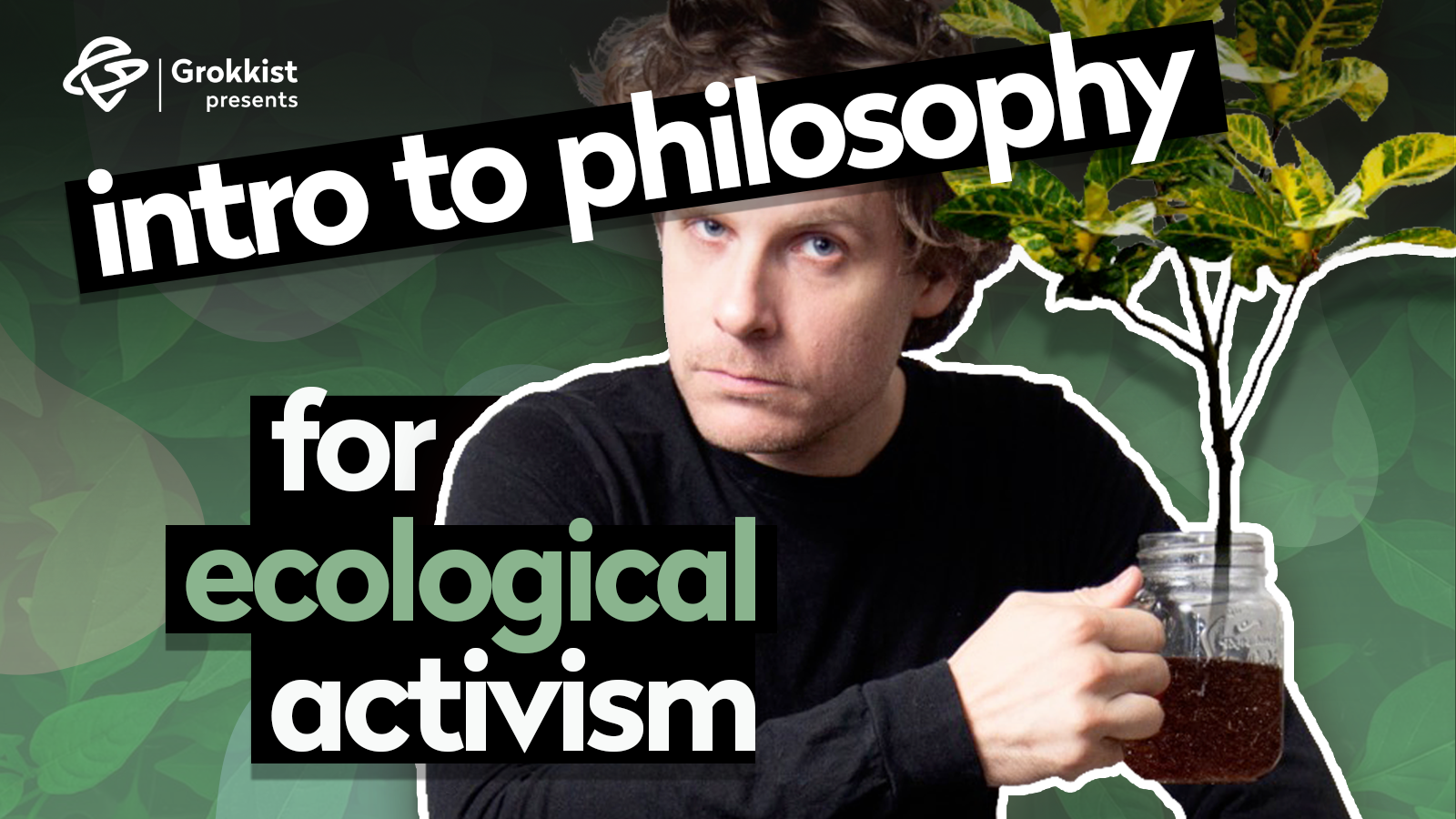 🙋🏼‍♂️
Are you or your organisation reimagining education in interesting and grokkist-friendly ways? We'd love to
feature your work
.
---
Unconscious Printouts, Threshold Guardians and Dead Man's Dreams - The Ungoogleable Michaelangelo | S3E4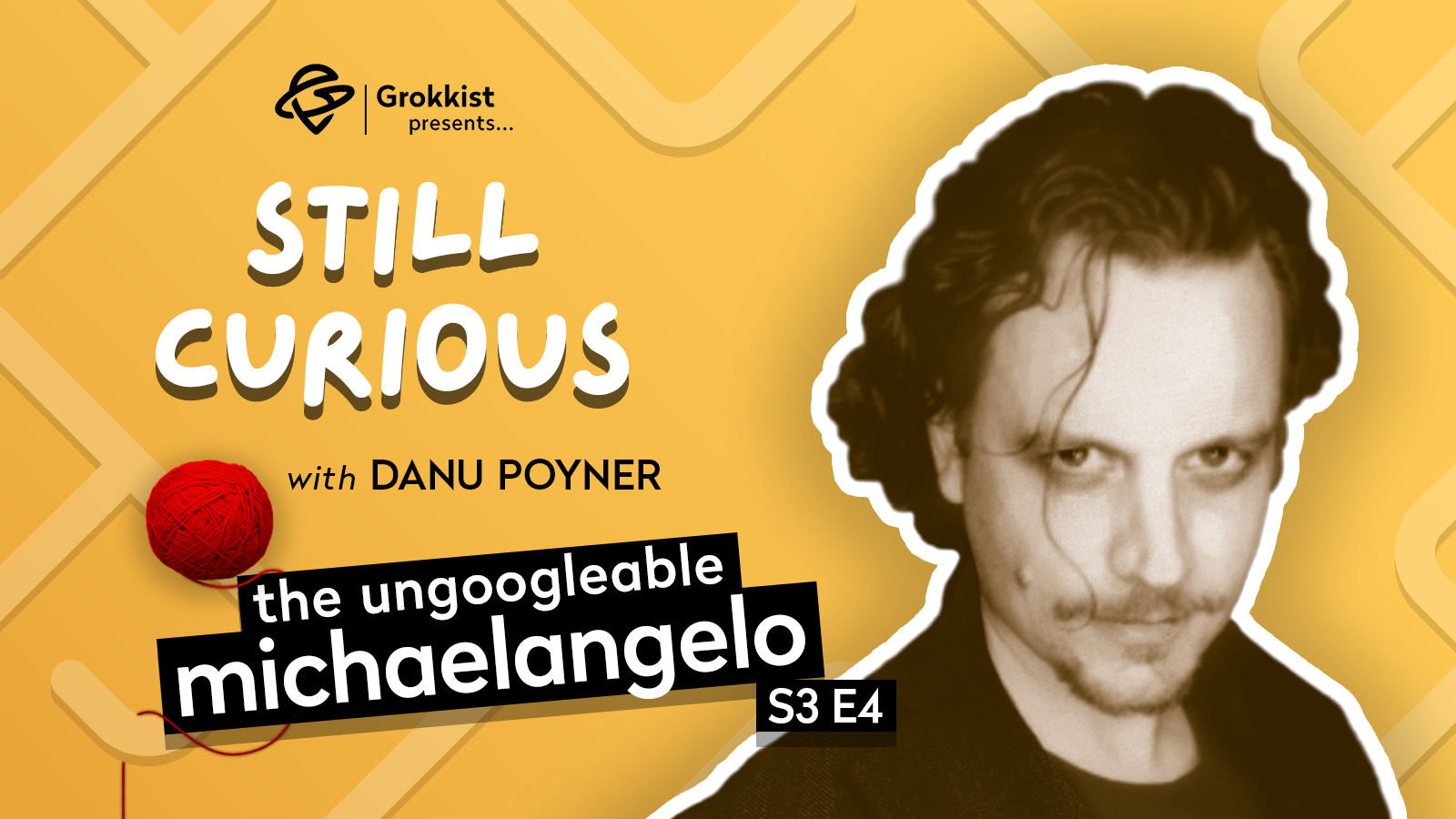 This episode I had the pleasure of sitting down with The Ungoogleable Michaelangelo – a multi-dimensional artist, author, and host of the podcast Self Portraits As Other People – to discuss the mysteries of creativity and the disciplined use of psychoactive substances to expand one's understanding of the world.
The conversation delves into Michaelangelo's fascinating journey from photographing deer and hunting celebrities in the Netherlands to finding a community in a snail-shaped house in Mexico, and how it led him to create his latest book, Impatient Transformations.
Throughout the episode, Michaelangelo discusses his approach to art and learning, emphasising the importance of embracing all aspects of life. He touches on themes of synchronicity, pareidolia, and the limits of language and reality, as well as his fascination with wildlife and nature.
Key Topics
Why "unconscious printouts" – unexpected creations that arise while doing something else – often end up being the artist's best work because the artist is not interfering with their own creativity
Michaelangelo's trajectory as a multidimensional artist, from an early fascination with wildlife, nature, and photography, to pursuing music, film, podcasting, and poetry.
An unconventional path that includes being a legal squatter in a haunted dentist's practice, a stage magician, a tour guide in San Francisco, a street artist, a pawn shop worker in Florida, and an extra on an episode of Westworld.
How Michaelangelo makes disciplined use of psychoactive substances to explore consciousness and the fringes of reality
How the power of mirroring and finding self-portraits in other people can help us become more accurate reflections of ourselves
There have been times when I thought I knew what I was doing or working towards, which might be different from what you're actually doing, and It's like the sense that the goal before your eyes, yes, that's the thing that's drawing you towards it, but it's also blinding you maybe from what's going on.

So it's actually what I call the unconscious printouts, which are the marbles that fall from your pockets as you're trying to do something else, as you're like rifling through your keys and other things fall out, which you don't consider to be the main event or those aren't my real creations, that end up being some of the best things that come out because I'm not interfering with it through my own meddling ego or expectation.

The actual event might be happening off the page or outside of the frame that I'm looking at.
---
🍬 Snackables
Assorted awesome links, just because.
#1 - Rhythm shapes our lives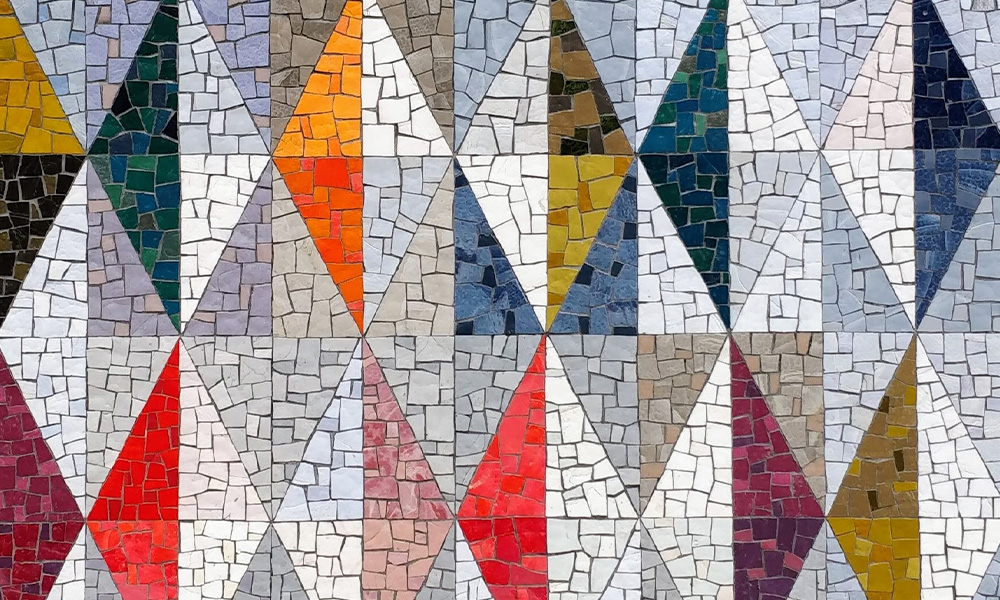 Rhythm is more than music. "It connects us to the world. It plays a role in listening, in language, in understanding speech in noisy places, in walking, and even in our feelings toward one another." Rhythm is universal, and arguably a basis for consciousness itself. Neuroscientist's Nina Kraus' exploration of the various dimensions of rhythm is an article in the best traditions of humanistic science.
#2 - The best free edu-things on the internet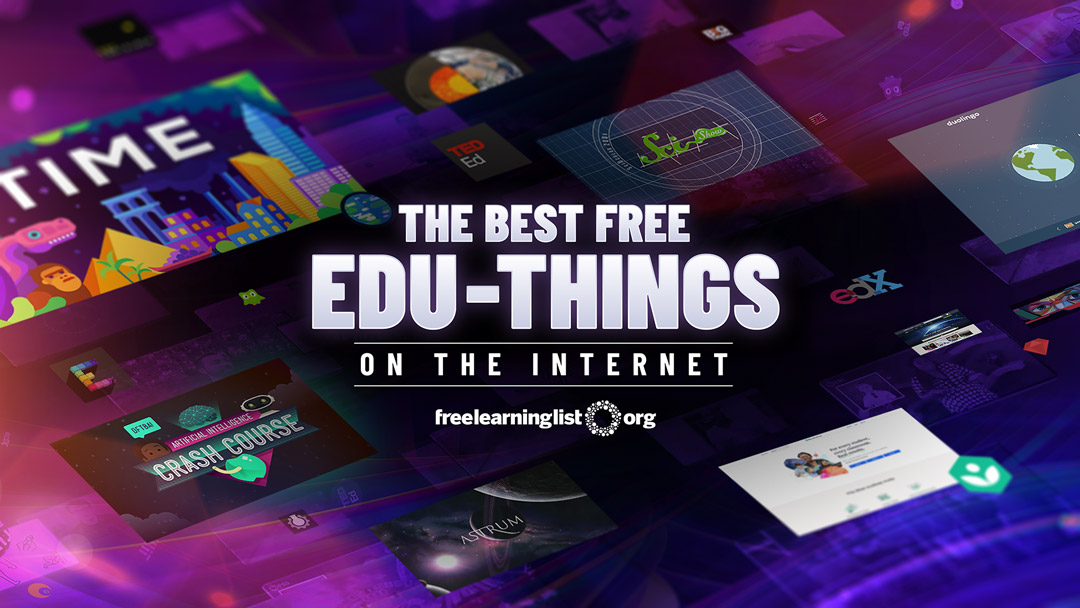 Worth bookmarking. School of Thought strives "to teach the next generation how to think, rather than what to think. It aims to achieve this by connecting academia with the best of the creative industries, bypassing the bureaucracy of the education system in order to create genuinely engaging, critical thinking resources made free under Creative Commons." The Free Learning List is a handy directory of free high-quality learning resources of various shapes and sizes.
#3 - Adventures through the windshield glass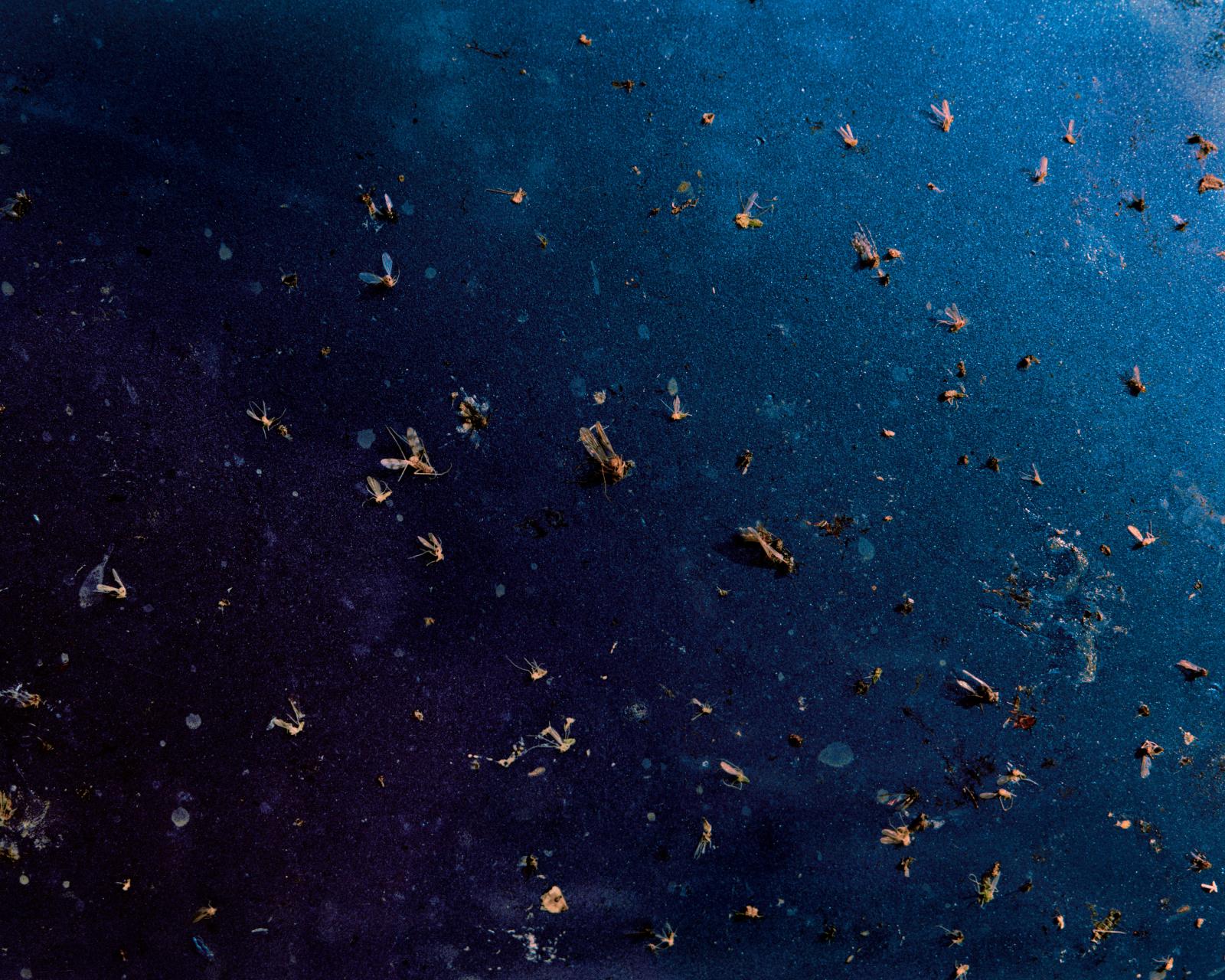 "A car's interior defines the line between public and private space." Phil Jung makes photographs of the American social landscape, exploring identity through personal space and habitation. In this collection he takes photographs through the windscreens of parked cars, in order to reflect something of "who we are, where we come from and, possibly, where we are going."
#4 - AI, copyright and collective knowledge
This edition's obligatory AI link. An entertaining, well-informed and wide-ranging podcast discussion of the implications of generative AI for copyright, ownership and originality, by tech analysts Benedict Evans and Toni Cowan-Brown. References to monkey-selfies, 19th century debates about live performance, and philosophy of art. "Interesting questions and no answers". As the hosts joke, doctors and lawyers are the two kinds of people you don't want to hear say "oh that's interesting…"
#5 - A short film about our relationship with the natural world
A superbly animated and tragically accurate depiction of humankind's relationship to the natural world, by Steve Cutts, simply titled 'Man'. It's not subtle, but as one YouTube commenter says, it does depict '150,000 years of human history in just 3 minutes'. The original is from 2012 - the animator did an updated edition during the 2020 pandemic.
🙋🏼‍♂️
Want to submit a snackable or be a guest editor for an edition? Reply or DM me.
---