---
---
I'm now back in Auckland after a month in New York working on Grokkist stuff alongside Nathan. It was great to meet others from the grokkist community in person – shout-outs to Sam, Grace, Thomas, Michaelangelo, and Aaron in particular – and regrets to those I missed due to the floods and other happenstances.
And over one hectic weekend, it was also amazing to meet David, Lalith and Emily in person, colleagues and collaborators in the grokkist project, and people I am proud to call dear friends. David made the trip from St Louis, Lalith drove down from Ontario, and Emily surprised us with some clever subterfuge by secretly making the trip from Vancouver!
After being playmates online for 1-2 years, it was a special and magical occasion as we all met each other for the first time. If you'll pardon the personal indulgence, I wanted to share a few photos. I look a bit shellshocked in the cafe one as I had barely picked up my jaw off the floor after Emily's surprise moments beforehand.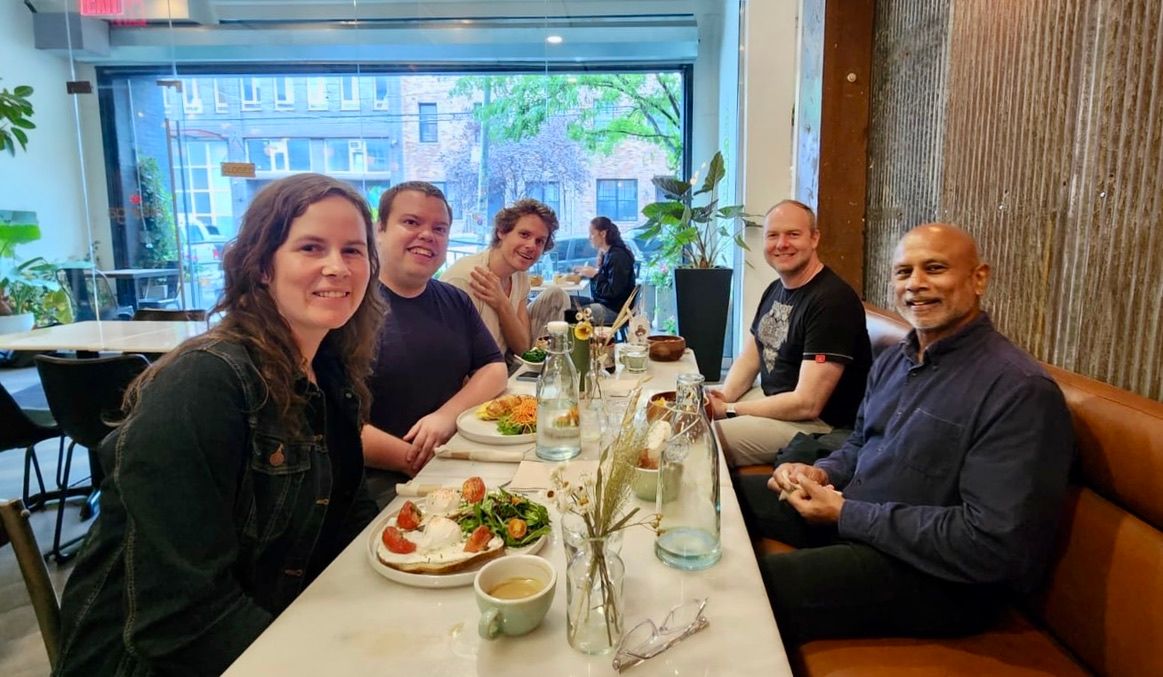 Many things came out of the experience and the trip overall, much of which you will see unfold in due course. I spent my time humbled and full of gratitude for all that has been made real with Grokkist in the past year, and I left full of fresh energy and resolve for what comes next.
Now that our community platform is properly up and running, we're looking forward to picking up our production schedule again on things like this newsletter, the podcast, and the articles, courses and other creations we're eager to get out there.
On that note, a bit of housekeeping...
From now on, we'll refer collectively to the various creative output we produce ourselves – the podcast, articles, videos and other creations – under the name Grokkist Press.
Everything we do as part of our community – our events, courses, and the community platform itself – we'll refer to as the Grokkist Network.
Over the next little while, you'll see some refreshes to the format of the newsletter and the website to reflect this. And now, let's get on with it.
-Danu
👅
We thrive on word of mouth
This newsletter was sent out to 459 subscribers. If you're enjoying being here for Grokkist's journey, help us expand the grokkiverse by sharing the link to this issue with others:
grokk.ist/schole-supplement-31/
From the Grokkist Press
Articles, videos, podcasts and other creations
It's nice to be publishing again! My podcast is back better than ever after a little rest and we're going to close out the year with a few bangers!
Still Curious is dedicated to exploring the lives of people who insist on relating to the world with curiosity and care – the people I refer to as grokkists. In each episode, I set out to connect with the unrepeatable person who is emerging from the place where history meets biography.
Even if you're not an avid podcast listener, be sure to check out the episode pages, where you'll find a detailed digest and a collection of short audio highlights for each episode.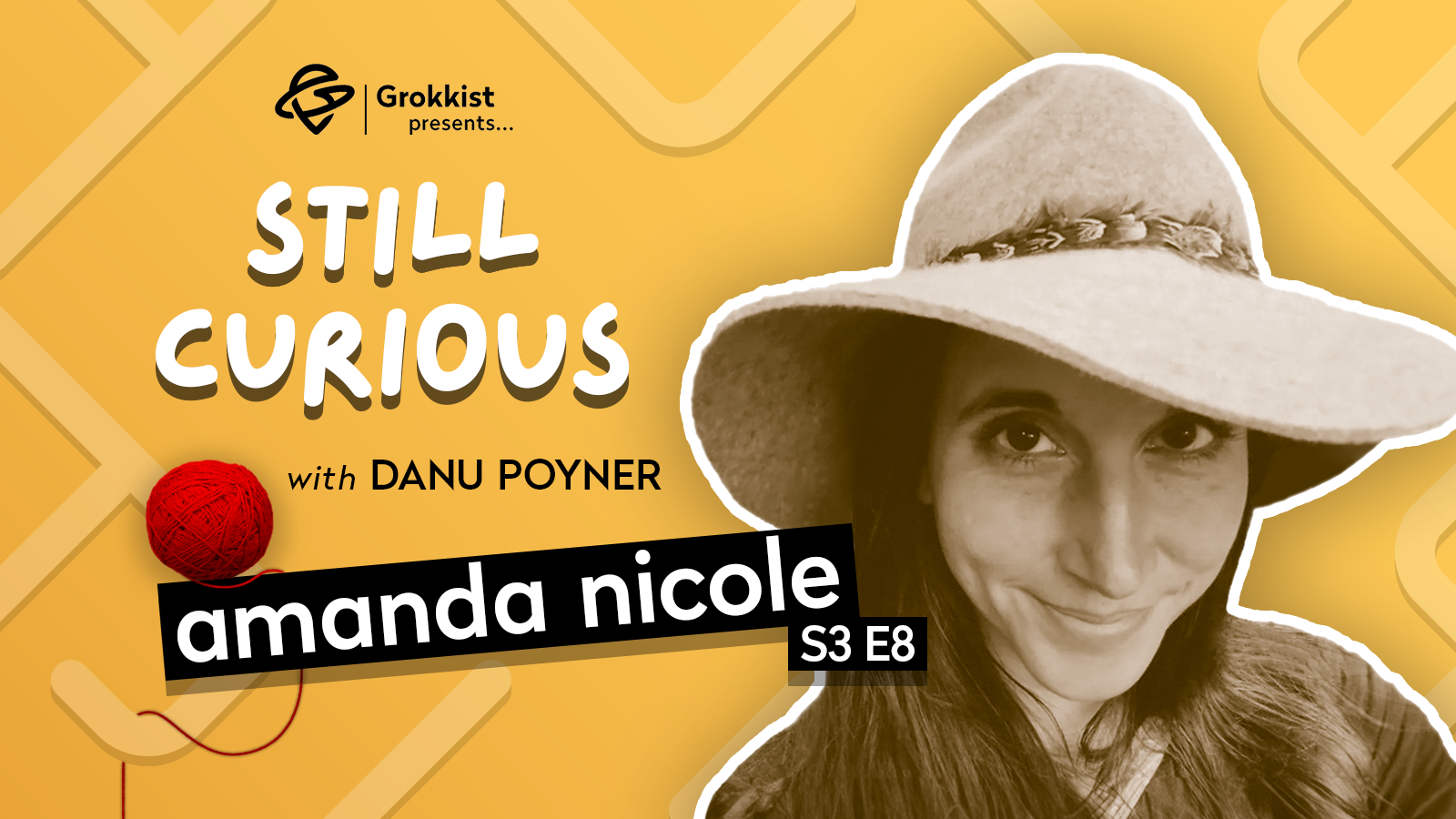 🎙 NEW PODCAST EPISODE | S3E8 Listening with the heart: how the wisdom of plants helps us remember our connection to the divine - Amanda Nicole

Amanda is a liriodendress, a human embodiment of the tulip poplar tree. We discuss her journey of reconnecting with nature, listening to the wisdom of plants, and exploring alternative ways of knowing in her pursuit of heart-centred living.

Episode Summary
Raised in a conservative Baptist church, Amanda always felt the divinity in the world but questioned the disconnect between the teachings of the church and her own experiences.

After experiencing miscarriages and feeling unheard by medical professionals and her preacher husband, Amanda found healing and strength through acupuncture and connecting with plants, which led to a disruptive divorce and ex-communication from her church community.

Amanda explored alternative ways of knowing and being, including herbalism, and discovered the transformative power of listening and dissolving the distinction between human and non-human.

Through her work as an author, podcast host, and artist, Amanda shares her heart-centred offerings and messages to help others remember their connection to the divine and the interconnectedness of all living beings.
Key Themes
Challenging the systems and structures that don't resonate with our hearts

The transformative power of listening and the importance of being heard

Reconnecting with nature and dissolving the distinction between human and non-human
Explore the Episode ↗
---
From the Grokkist Network
Events, courses and news from our community
Community highlights
ℹ️
Click here
to start exploring the Grokkist Network. Create a free account when you're ready to join in.
Thank you to the 35 people who attended our second symposium this week on Comfort in Contradiction: whole brained living in the self and non-self. It was a therapeutic discussion that centred on the importance of acknowledging and integrating the contradictory aspects of ourselves.
Shawn ignited a lively discussion by asking 'How do you think?' Some grokkists think in words, others in pictures, others experience sensations. After much discussion and plenty of tangents, a few folks had an impromptu catch-up to swap perspectives and compare notes.
Meeting together and connecting with each other and having this in each other's lives is kind of a pure form of magic that is the only thing that ever moves anything forward.
- Kleine Zwemmen (at this week's symposium)
Upcoming events and meetups
🗓️
For an up-to-date list of all our public events shown in your timezone, bookmark the
Events and Meetups space
on the Grokkist Network.

Wed 15 November | 4–6pm PT (view in your timezone)
Grok Cafe: Come along and chill out to share a heart space, info-dump each other's passions, or simply discuss whatever you want. [Details and RSVP here]
Grokkable courses
❤️‍🔥
Our
'grokkable' courses
are our answer to the question – what would it look like to create a radically accessible and inclusive educational curriculum focused on practical wisdom that ignites the soul's passion, rather than just passing tests?

Find Your Red Thread: Make sense of your squiggly story while rediscovering the richness of your true multi-dimensional self.
Cohort 1 kicks off on 7 November!!
Weekly on Tuesdays (Wednesdays in Aus/NZ)
7 Nov, 14 Nov, 21 Nov, 28 Nov, 5 Dec (+1 day for Aus/NZ)

Workshop Times (view in your timezone)
New York (ET) - 1.30pm – 3.30pm
Vancouver (PT) - 10.30am – 12.30pm
London (GMT) - 6.30pm – 8.30pm
Amsterdam (CET) - 7.30pm – 9.30pm
New Zealand (NZT) - 7.30am – 9.30am (+1 day)
Suggested tuition is USD$125. If you can't afford that but still want to join, check out our Forget About the Price Tag policy for options.
---
🍬 Snackables
Assorted awesome links, just because.
#1 - Elastic mood
A post for people who like to invent (or add to their collection of) names for the social experiences and phenomena we observe around us. I have adopted 'elastic mood' from this collection — 'when a mood is so overwhelming you mistake the intensity of it for the longevity of it.' Sometimes when we get overwhelmed or spiral out about something that is (or seems) to take up all the space in the world, it's easy to be overcome with a sense that things have felt this way forever. Elastic mood.
#2 - How Mussolini's legacy has moulded three generations of one family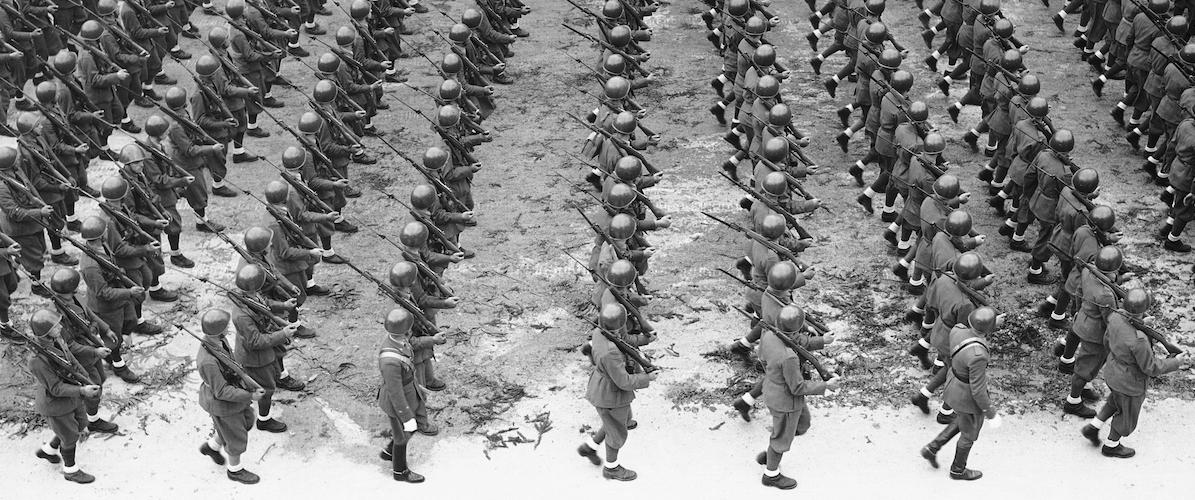 Long after the dust settles from the upheaval of a world-historical crisis, a shadow is cast on those who lived through it, and those who grow up in the shadow of those who lived through it. In this personal essay, Italian novelist Andrea Bajani traces the effects of Mussolini and the complicated legacy of Italian Fascism on his family, and Italian society. His grandmother went to hear Mussolini speak from his balcony, a gentle woman who nonetheless waved the flag for fascism.
I don't believe my grandmother ever felt like a fascist, or that deep down, my father ever really suspected her of being one. But it is a fact that the approval my grandmother and her sister demonstrated by standing their two orphaned bodies under Mussolini's balcony, played some role in legitimizing the Fascism of the future. They were seeking something and found it there: that yelling man with his fists on his hips offered them something even bigger than a mother or father. They were two lonely girls in search of God, of a Country, of a Family.

As for my father, like millions of other Italian men, he rejected Fascism but kept Mussolini as an internalized model, without ever even recognizing it as such.
#3 - The music theory of the 'Twelve!' song from Sesame Street
Ok let's bring it back up. Go watch excitable music theory YouTuber Charles Cornell break down the insanely complicated grooves and odd meter of the the iconic 1977 Sesame Street song, Twelve. A warm nostalgia bath that's also educational.
#4 - Practical advice for phone etiquette at social gatherings
"When does one person's desire to document their life interfere with another's preference for privacy? How does one person pulling out their phone impact another guest's experience of the gathering itself?" Priya Parker is known for her wisdom on the art of organising social gatherings. Here she explores what it means to have a more intentional relationship with technology when we gather socially. The answer is not always just a blanket "tech-free" gathering.
#5 - People are more like croissants than onions
A delightful extended metaphor for how to encounter other people. We're not just layers of experience that can be peeled away one at a time. Some parts of us are brittle and flaky when you try to pull them apart, experiences that are folded over each other, flattened out, and refolded — delicate layers that get baked into a beautiful composition.
And, of course, taking a non-linear approach to making sense of ourselves is what my Find Your Red Thread course (starting in one week - places still available!) is all about. But you knew that already.
A parting thought...
In a time of drastic change it is the learners who inherit the future. The learned usually find themselves equipped to live in a world that no longer exists. – Eric Hoffer
---
Thanks for reading! Reply any time (replying also lets your mail provider know it's not spam). And before you go...