---
You're reading Scholé Supplement, the newsletter that celebrates curiosity, learning and life as a grokkist.
New here? Learn what we're about, or check out our 5-min music video on reimagining education. We respect your inbox – edit your profile or unsubscribe here if this isn't for you.
---
I'm not usually one to brag ("the kūmara does not speak of its own sweetness", as the Māori proverb goes) but I simply must share this comment from one of the participants in our 'Intro to Philosophy for Ecological Activism' course, which just wrapped up this week. Here it is in full: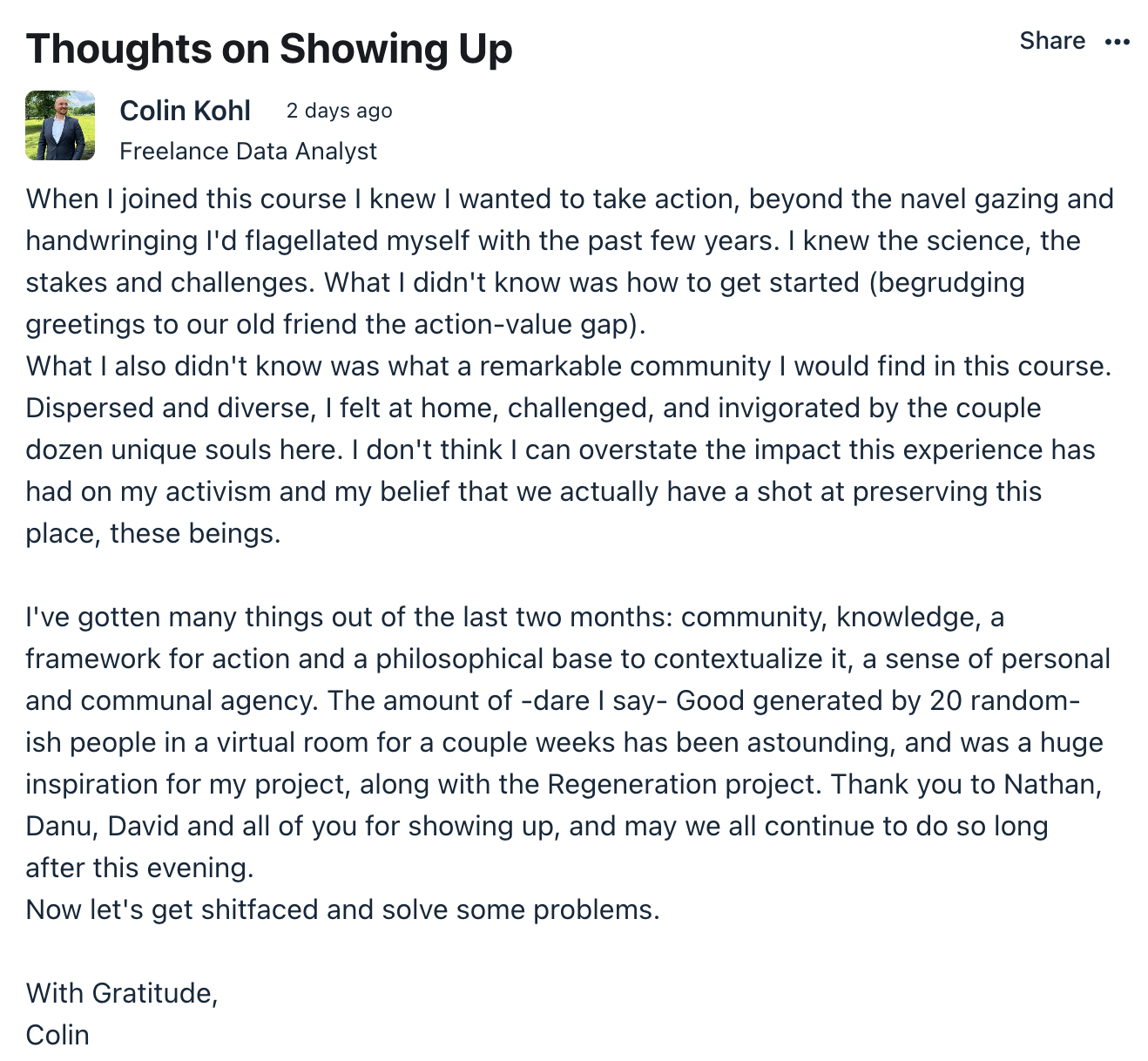 Colin's feedback both encapsulates and surpasses the hopes Nathan and I had in conceptualising this course.
Our goal for our educational program of 'grokkables' is to reimagine education as a therapeutic experience of deschooling the mind and reinvigorating the spirit through the sharing of practical wisdom – an undeniable experience of learning in community in which explosions of clarity help us to collect our thoughts, reclaim our agency and move forward with purpose and direction.
Nathan's 'Intro to Philosophy for Ecological Activism' course will return for its third cohort later this year, and we have more grokkables in the works.
And, of course, if you are interested in co-creating a grokkable, let's talk...
-Danu
👋
In this edition (these links might work better in the
web version
):
📣 My new in-depth article about what it means to
Find Your Red Thread
🎙 "One breath at a time": my podcast conversation with Lalith Gunaratne on
daring life, mindfulness, and non-self
🍬 And in
Snackables
...
#1 - is perfectionism a kind of illness?
#2 - an illustrated guide to mouth gestures
#3 - on the phenomenon of 'moral injury'
#4 - Long covid and brain fog
#5 - the audiobook boom is changing how writers work
Grokkist Lore: Find Your Red Thread
I use the language of the 'red thread' a lot, so I figured it was high time that I explain what it means, how I think about it, and how it can help you on your own journey towards greater self-understanding.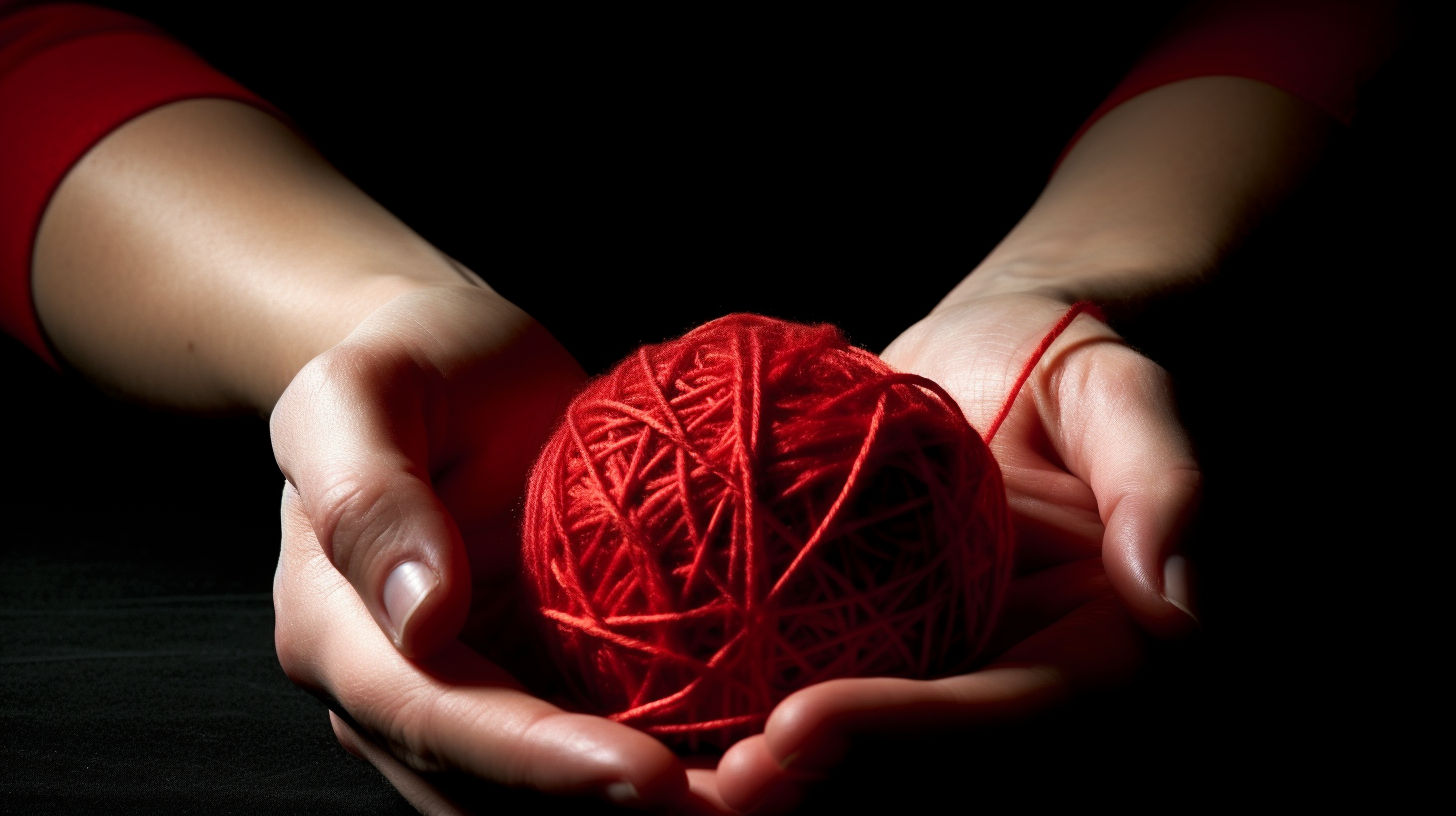 "So what do you do?"
This innocent question strikes fear into the hearts of grokkists everywhere – a spike of adrenaline that can trigger a brief moment of anxiety or send us spiralling into existential uncertainty.
Can you draw a line through all your many careers, projects and lived experiences? A line that runs from where and how you show up in the world to what you're good at, what holds your interest, and what you care about most?
This is the Red Thread, and here's what it's all about...
Keep Reading (10 min) ↗
---
"One breath at a time": daring life, mindfulness, and non-self - Lalith Gunaratne | S3E6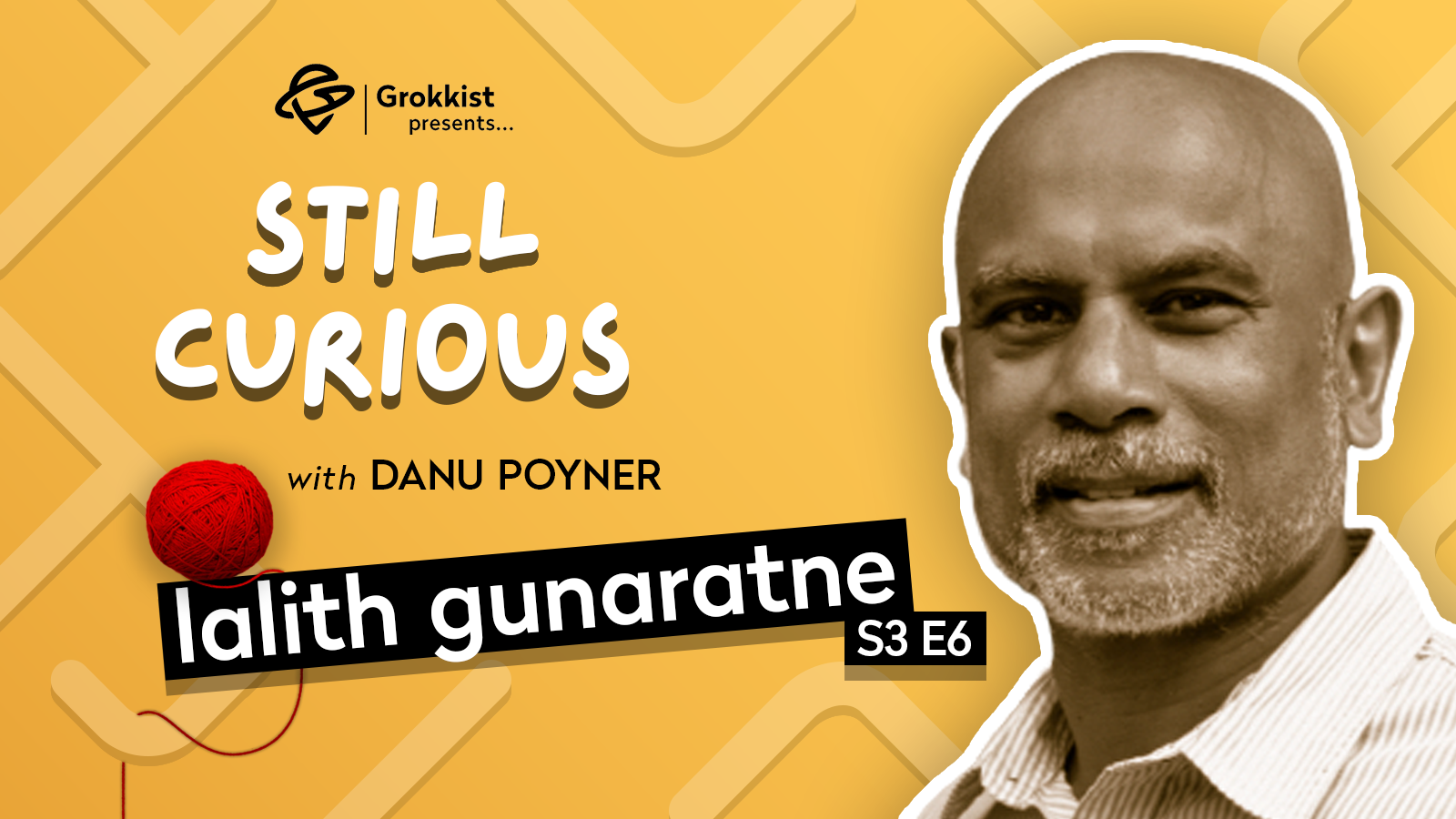 Lalith Gunaratne is a parent, entrepreneur, and educator on mindful leadership.
We discuss Lalith's mindfulness journey, his experience starting a solar energy business, and how his approach to equity, diversity, and inclusion training is informed by mindfulness and personal integrity.
Episode Appetiser
If you're not aware of your breath, you're not really aware of your body. When you're not aware of your body, we treat it like an object. So if I get a headache, I cut the headache off by taking a pill, I don't address the root cause.

In this part of the world, even mindfulness is brought in a very reductionist way. What you're doing is you're then feeding into the same framework of how the world operates in this whole left-brain objective-oriented world.

The mindfulness practice at the core is totally antithetical. It's about non-self. It's about eventually realising that there's no self. Do I need to really buy that new car? Do I have to work in this place? Do I need to earn this much money? How much is enough for me? When does my need move over to the want?
Key Topics
Lalith's mindfulness journey and the benefits of being present and letting go of attachment
Challenges faced by Lalith as an ethical entrepreneur in the renewable energy sector and his transition to training and facilitation around equity, diversity, and inclusion
Creating a safe space for conversations through nonviolent communication and mindfulness practices
The importance of personal and professional integrity, learning, and taking responsibility for oneself in creating a harmonious and understanding world
---
🍬 Snackables
Assorted awesome links, just because.
#1 - Is perfectionism a kind of illness?
"One part of the mind promises the other that the completion of the next task will finally usher in peace." 5-min animated video essay on perfectionism from The School of Life that argues those of who pursue perfectionism are not driven, but in fact ill. We are hoping to feel acceptable, and work happens to be the medium through which we are striving to become tolerable in our own eyes. The suggestion is that healthy self-esteem would see us work for pleasure rather than validation, and enjoy periods of laziness without guilt.
#2 - An illustrated guide to mouth gestures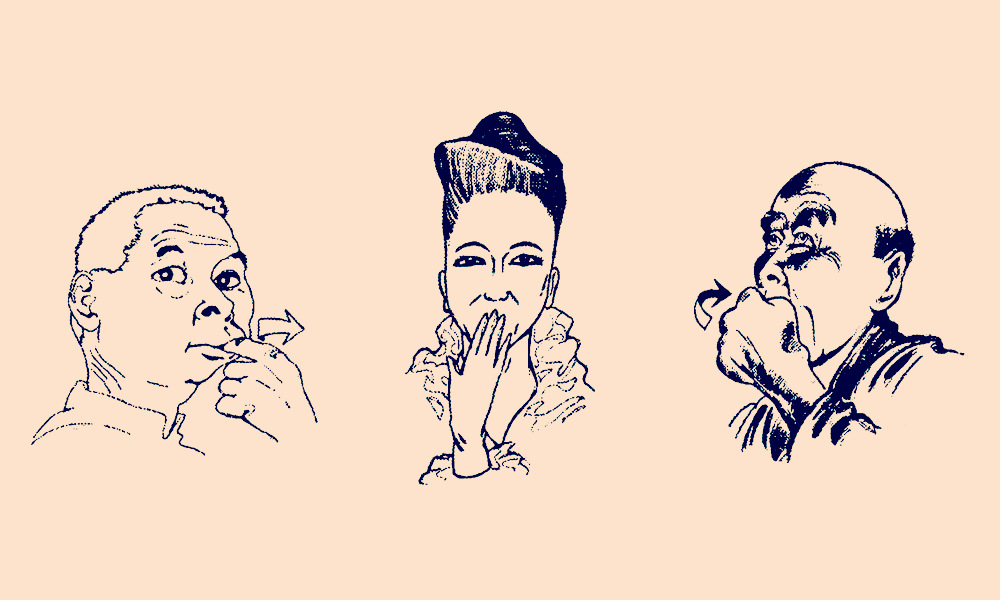 42 mouth-related gestures, excerpted from François Caradec's Dictionary of Gestures. Interesting to see the descriptions for gestures that are unthinkingly automatic, such as communicating that food is too spicy (#38), as well as the interplay between the universal and the culturally specific.
#3 - On the phenomenon of 'Moral Injury'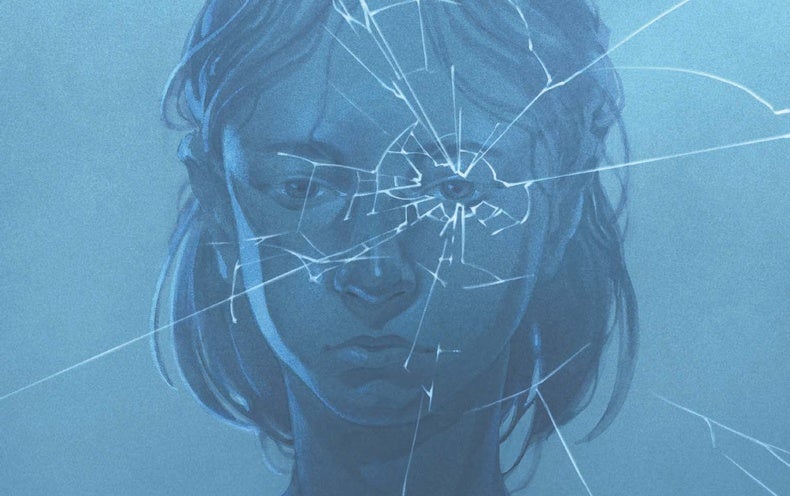 Articulating the phenomenon of moral injury, when we suffer a severe disconnect between our conscience and events at our workplace: "that sense of who you are as a person has been brought into question." Sometimes mistaken for PTSD or "burnout", the authors argue that moral injury is its own thing and functions differently.
It's safe to say that Grokkist would not exist at all were it not for the ongoing moral injury I experienced navigating the education system, beginning in school and certainly in full bloom during more recent times at the university. It is wave upon wave of constant and deadening indignity and outrage that inevitably gets turned inward. "We have a lot of people saying, 'This is the language I've been looking for for the past 20 years.'" (🙏 Peter G)
#4 - Long covid and brain fog (From Our Neurons to Yours)
A podcast that explores the frontiers of brain science from multiple disciplines, delightfully titled From Our Neurons to Yours. In this 20-minute episode on Long Covid and brain fog, a neuro-oncologist makes comparisons with patients undergoing chemotherapy, which triggers a cascade of inflammation that leads to so-called chemo-fog. There are also similarities with chronic fatigue syndrome. As the phenomenon is becoming better understood, there is some optimism about reversibility and treatment.
#5 - The audiobook boom is changing how writers work
A look inside the exploding popularity of audiobooks, which now comprise up to 50% of a book's sales. In much the same way that TikTok is changing songwriting, audiobooks are changing the way fiction is written, so it sounds better in the ear. This places increasing importance on the narration, though narrators themselves are usually paid per finished hour and don't receive royalties. A return to the oral tradition, but at 1.5x speed. And what about AI narration?
🙋🏼‍♂️
Want to submit a snackable or be a guest editor for an edition? Reply or DM me.
---